The Conservatorium of Amsterdam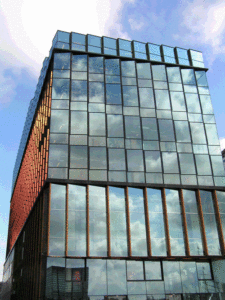 In cooperation with the Conservatorium of Amsterdam De Gebouwengids/The BuildingGuide is giving the tours through the building, designed by Frits van Dongen and open since 2008.
The functional programme of the Conservatorium has three parts: the performing heart, consisting of 5 auditoriums for different kinds of music and the foyer-cum-canteen; the college building with all the classrooms; and the study building with the library, the lecture hall and the offices.
The colour of the facade is changing during the day due to a special folie. The architect, has been using a lot of wood in the building, a material referring to Spanish cafés and music.
It is also possible to combine the tour in the building with a boat tour or with a tour over the Oosterdokseiland and the Marineterrein.
For more information about the guided tour in the Conservatorium please call us:
T +3120 6231 701 or M +316 135 60615
or mail to info@degebouwengids.nl